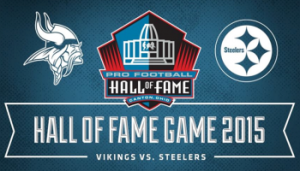 To mark the first game of the NFL season we play the Hall of Fame Game. This is an annual National Football League exhibition game that is played the weekend of the Pro Football Hall of Fame's induction ceremonies. The game is played at Fawcett Stadium, which is located near the Hall of Fame building in Canton, Ohio. This marks the end of a 6 month NFL absence, Thank the football gods.
Pittsburgh Steelers and the Minnesota Vikings are going head to head this weekend for the Pro Football Hall of Fame Game. PPH bookie services gave the line for the game as Pittsburgh -3 and over/under 35. The two teams are selected around the time the new Hall of Fame members are announced. The two teams usually include a team from the AFC and one from the NFC. Sometimes the teams get into their old school digs and come out as pretty as a picture. This game comes right before NFL's 4 game preseason schedule which will then in turn give these two particular teams a 5 game preseason schedule.
Before the NFL-AFL merger the Hall of Fame game was played in August or September even at the end of preseason. It was moved to the beginning of the preseason in 1970. It was not uncommon for the game to be played in July.
Since 2002, when the league permanently moved the start of the season to the weekend after Labor Day, the game has always been played in early August.
Since it's the first football game of course it's televised nationally on NBC and will air at 8:00 PM ET. This is a special day for all sportsbooks as it marks the beginning of the high season. Let's start getting in gear for the most lucrative sports season in the USA.
Fans can also get the motors running as they can watch Pittsburgh Steelers quarterback Ben Roethlisberger take on Minnesota's Teddy Bridgewater. Teddy will be the first QB to take a crack at Pittsburgh defense led by new coordinator Keith Butler. He replaces the departed Dick LeBeau.
The Steelers will be all cheers as they will have former great Steelers' running back Jerome Bettis. Also the Vikes will applaud ex-Vikings center Mick Tingelhoff as both where named to the Hall of Fame's Class of 2015.
There is certain rush that comes with the beginning of football and I'm not any different, It's football (Little Man movie voice).