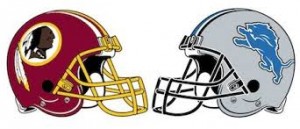 The second week of the 2015 NFL preseason kicks off this Thursday with the Washington Redskins taking on the Detroit Lions. The expectations for both teams coming into this week is for them to begin to gain momentum and start to develop what will be their game plans for the start of the new season. At the moment the average price per head sportsbook has Washington as the early favorites coming into this matchup, can they hold their own against the Stafford and the Lions?
There is no shortage of confidence in RGIII and the rest of the Redskins camp coming into this season. Following the tough season they had last year, the Redskins truly believe that this season they will find a way to turn things around and live up to their full potential. Reports coming from people close to the Redskins organization are overall positive on the progress RGIII had on training camp.
To further demonstrate that the Redskins are looking good for the challenges ahead, they stole a win in Cleveland against the Browns. Now, some people might not be as impressed by this victory (after all, it was the Browns), however coach Jay Gruden believes that it was the first step in the right direction for Washington.
The Detroit Lions are coming into this game following win versus the unstable Jets. During the offseason the Lions' defense took a hit when they lost one Ndamukong Suh to the Miami Dolphins. But on the first game of the preseason the favorite Lions not only managed to cover the spread for all price per head Sportsbooks, they also managed to keep the Jets down to only 3 points. Preseason games might not mean anything in the large scheme of things but that score definitely was a morale boost for the Lions defense.
Detroit's offensive end is well covered. Matthew Stafford is expected to have a solid good year, and Megatron is still considered among many experts on the league as the toughest Wide Receiver to defend. The Lions have the necessary offensive firepower to be able to win games and put on tough competition on the NFC north.
This game however will see some changes and experiments on both teams' starting line ups. The Redskins are the favorites by a slim margin that can be attributed to them being the home team. The pick for this game is that the Lions will be able to steal away this game by at least 3 points, with a strong defensive performance.