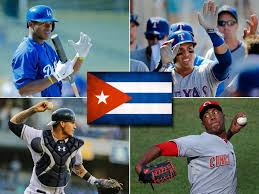 After many years of obvious political hostility, the US and Cuba might be ready to play nice and end their embargo. Last year president Barack Obama went to Cuba to have a face to face meeting with Cuban officials and current Cuban President Raul Castro. For over 50 years Cuba and the US have worked to improve their relationship after a half-century of Cold War hostilities.
The reasoning behind all of this is the talent pool that Cuba has to offer the Major League game. Everyone Major League team is salivating at the chance to get their hands on any of the Cuban ball players Fidel's country has to offer. One so called prospect is Yulieski Gourriel, star third baseman for the Havana Industriales. Yulieski has been a highly regarded prospect by the big leagues, but Yulieski says he's not budging. Yulieski wants the embargo to be lifted and gets permission from the government before he makes the decision to play in the big leagues.
"This is the dream of all players — to play at the maximum level of baseball in the entire world," Gourriel said in an interview at Estadio Latinamericano, the Havana ballpark where the Industriales play. Asked what team he would like to play for, Gourriel instantly replied, "the Yankees," where he would be able to join his favorite player, Alex Rodriguez.
The 30 year old Yulieski Gourriel who has been compared to Derek Jeter, also let it be known that he has no intentions of going against the Castro regime and has no interest in defecting to the United States. Yulieski and other Cuban ball players say "are ready when they say we have permission to play," he said. "We are ready for the lifting of the blockade. Then we can come play."
Texas Rangers play-by-play announcer Eric Nadal had this to say about the Cuban ball player "Every time you see [Gourriel], you see something special." "He rises to the occasion in international tournaments. He's no secret…"Just look at what he did in Japan last summer," added Nadel. "He hit over .300 with power. He's going back there this summer. He's legitimately a major-leaguer in any league."
Price per head agents have the Yankees at 33/1 to win the World Series. This year isn't shaping up to be their year. The Yankees have had good luck in the past with Cuban ball players. Everyone remembers Orlando "El Duque" Hernandez. Maybe Yuleski might turn out to be the next big thing.