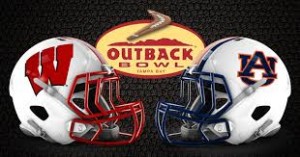 New Year's Day will see plenty of action besides the celebrations, as Auburn will take on Wisconsin when the Outback Bowl gets underway, in a match that that could leave fans and price per head bookies alike at the edge of their seats.
The Tigers and the Badgers ended up losing the last games that they played to playoff teams. The Iron Bowl saw the Alabama Crimson Tide defeat Auburn, and the Ohio State Buckeyes took out Wisconsin in the championship game of the Big Ten. This meeting gives both of these teams a chance to have a nicer finish to their seasons.
Gus Malzahn, the Tigers' head coach, would rather have his side use a quick offense with QB Nick Marshall leading them. The QB was able to lead Auburn last season to the national championship game, but the schedule this year proved to be much more difficult, and Auburn ended up with a record of 8-4, and in the country they're ranked at 19th place. Each of their four defeats took place in SEC action.
This season, the player was able to pass for 2,315 yards, with 18 TD's and 7 picks. He was also able to rush for 780 yards with 11 TD's.
On their ground game, RB Cameron Artis-Payne was the one who led the Tigers with 1,482 yards, while WR Duke Williams was the team's top receiver, recording 730 yards as well as five TD's.
The Badgers, who are 10-3, were able to win the Big Ten West, but the team did not do a very good job on the field at all when the title game was being played. Wisconsin, who have a ranking of 18th place, apparently couldn't do much on their offense or defense.
RB Melvin Gordon is one of the crucial elements in Wisconsin's offensive play. This season, Gordon was able to rush for 2,336 yards and 26 TD's.
QB Joel Stave was only able to pass for 1,229 yards and 8 TD's, with 7 picks.
This meeting will be decisive in knowing which team will be the one to set the pace. Price per head bookies believe that if the Badgers are able to slow down the game, have control of the clock, and put Gordon to very good use, they'll be the ones to win this meeting. However, if the game becomes a shootout, then Auburn will own the show. For the Tigers, putting a stop to the run will be crucial.