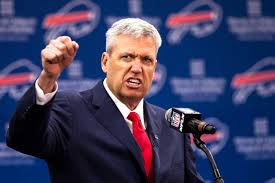 The famous (or infamous) Rex Ryan was not willing to hold back his words when he spoke in his very first news conference as the new coach of the Bills, saying that his new team will make it all the way to the postseason, and also said that what he'd like to do is to "build a bully" that other teams won't want to play against. Online bookmakers know about Ryan's personality, but must admit that they found these words somewhat surprising.
On Wednesday, Ryan was introduced by the Bills, and this took place two days after they hired the former coach of the Jets.
Ryan tapped on the microphone and asked "Is this thing on? Because it's getting ready to be on," and then the coach showed plenty of enthusiasm and confidence while he spoke about the plans that he had for Buffalo.
"I'm not going to let our fans down," said Ryan. "I'm not going to do that. I know it's been 15 years [since Buffalo reached the playoffs]. Well, get ready. We're going."
During the six years that he spent with the Jets, the coach became very famous with the football world and fans alike for his verbose personality, and on Wednesday that could be clearly seen.
"We are going to build a bully and we're gonna see if you want to play it for 60 minutes," said the coach.
Ryan, who thinks more defensively, will get a Bills defense that this season ended at fourth place in the league with allowed yards, had an NFL-leading 54 sacks, and made linemen who are going to the Pro Bowl.
But the coach has much bigger expectations for the team, and so do many fans.
"Fourth in the league was probably a little disappointing," said Ryan. "I know we'll lead the league in defense."
Ryan will end up being Buffalo's eighth head coach in 18 years' time, and he also said that Buffalo would like to have "a loyal coach," in something that could have been a subtle hit at Doug Marrone, who on the 31st of December opted out of the contract that he had with the team.
Fans and online bookmakers would really like to see how the Bills will do with Ryan leading them, and many believe that he could definitely help the team's defense get even stronger.