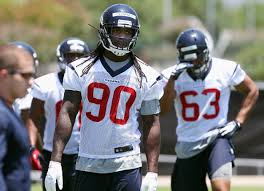 Jadeveon Clowney, rookie LB for the Texans who was the hope of many price per head fans, spoke about his desire to return to action in a few weeks from the time that he injured his knee in a very unfortunate event that put him on the sidelines since the season opened for the team.
On Tuesday, Clowney said that he started the running part of rehab, and that he's doing just fine.
"Rehab's coming along good," said Clowney. "I'm getting healthy. My leg's feeling a lot better — just taking it one day at a time."
When the Texans beat the Redskins in their opening game, the player tore his meniscus and was set to miss from four to six weeks of action.
"It's very hard (to be patient)," the player said on Tuesday, when he spoke for the very first time since his injury. "I keep telling guys 'I think I'm ready, I think I'm ready.' They're like man, you just got injured. They're just like, 'Take it one day at a time … you have a long career ahead of you also. Don't rush to come back one time and get hurt again.'
"I want my leg to be very healthy before I come back out there."
The player was quickly able to show his power and speed during the Texans' preseason games while he was learning to play as an outside LB, as he never played this position. Clowney's progress was slowed down due to a sports hernia, and on June he received surgery for this problem.
Things got even more serious in August, as when the Texans held joint practice with the Broncos, Clowney suffered a concussion and was out of the game for two weeks, to the concern of many fans. The player was healthy enough for the team's season opening game.
Price per head fans saw that in Clowney's latest injury, the player jumped up, and when he went down he landed on his leg in an awkward manner.
"I was very upset," said Clowney. "I told these guys, I'd rather get hit in my knee than just a non-contact injury. … Things happen, it's just how you respond to them and come back on the field."