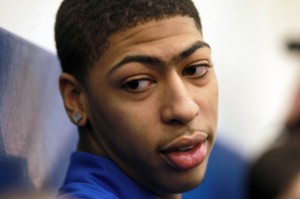 "Fear the brow" and "raise the brow" are now trademarked as Anthony Davis attempts to corner the market on unibrows. Price per head sportsbooks aren't sure if that is the best moves of the top draft pick, but it will least ensure a little extra cash every year.
According to Davis, via CNBC, "I don't want anyone to try to grow a unibrow because of me and then try to make money off of it. Me and my family decided to trademark it because it's very unique."
As much as pay per head sites would like to poke fun of his facial follicles, it is in fact a darn smart move. Just think every t-shirt or sign bought by fans with his unique brow will in fact be adding to the money in his pockets.
Of course, Davis is certainly not the first to trademark a catch phrase, and there now seems to be a new rush for all players to get in on the act.
Who else has already cornered their market?
Lebron James has the "heart of a lion" and his sponsors Nike, Coca-Cola, State Farm and McDonald's, which make up most of his $53 million income, will be ready to pounce on the advertising opportunity after helping his team, the Miami Heat, win the NBA title. Look for more commercials featuring King James and his
Jeremy Lin "Linsanity" "We laid out a strategy and moved forward with it in 36 hours," said Pamela Deese, a partner in the intellectual property group at Arent Fox, in Washington. "You have to be able to pivot quickly, as they say in basketball."
With the second highest selling jersey in the league, Lin will be enjoying the fruits of his name even when not on the court.
Retired coach Pat Riley trademarked the term "Three-peat" way back in 1988. Apparently after winning back to back championships and then hoping for a third, Byron Scott, the of the Los Angeles Lakers, of whom Riley was the head coach, coined the term in reference to the team's goal for that season.
Price per head sportsbooks look forward to the marketing explosion that will now ensue with Davis' brow beating.