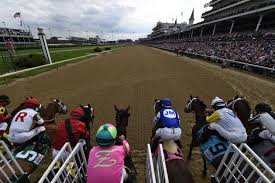 Now that the Grand National has been won by Many Clouds, (much to the chagrin of a certain Minister who had a wager with an online sportsbook service on Godsmejudge) we can move on to the next major horse race.
The Run for the Roses arrives in a couple of weeks and we have the list of the 20 horses that will aim to get their hooves in the history books at the 141st Kentucky Derby on May the 2nd.
This year security has changed the rules at Churchill Downs and ticket holders will not be allowed to re-enter the grounds once they have left.
American Pharoah is one of the Derby favorites this year, and owner Ahmed Zayat has the feeling that this will be his year, after coming in 2nd place 3 out of the last 6 years.
"When you feel you have a horse that can't lose, I've never had that feeling before. It's eerie, scary, and I don't want to jinx myself. But I have unbelievable excitement about this horse."
Zayat has come close to winning the Derby with Pioneerof the Nile in 2009. Nehro in 2011. and Bodemeisterin 2012.
The other top contender in the 141st Kentucky Derby Odds is Carpe Diem, who has never come in worse than a second place finish, has been picked as the favorite at some online sportsbook services.
Mubtaahij is the third at the top of the odds, but this horse has already won big for owner Sheikh Mohammed bin Khalifa Al Maktoum, taking the $2 million Saeed & Mohammed Al Naboodah Group UAE Derby Saturday, March 28 at Meydan,
141st Kentucky Derby Odds:
American Pharoah 4/1
Amis Flatter 60/1
Blofeld 75/1
Bold Conquest 75/1
Bolo 30/1
Bridgets Big Luvy 150/1
Carpe Diem 6/1
Competitive Edge 50/1
Danzig Moon 35/1
Dortmund 5/1
El Kabeir 40/1
Far Right 28/1
Firing Line 16/1
Frammento 50/1
Frosted 20/1
International Star 16/1
Itsaknockout 50/1
Keen Ice 50/1
Madefromlucky 50/1
Maftool 50/1
Materiality 14/1
Mr Z 60/1
Mubtaahij 10/1
Ocho Ocho Ocho 50/1
One Lucky Dane 30/1
Punctuate 40/1
Stanford 50/1
Tencendur 75/1
The Truth Or Else 100/1
Unrivaled 75/1
Upstart 16/1
War Story 40/1