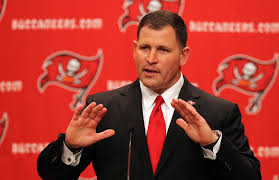 Price per head services learned that on Sunday, Tampa Bay Buccaneers coach Greg Schiano and general manager Mark Dominik both said that the team would be open to an investigation by the league into how it was revealed that former starting QB Josh Freeman was in the NFL's substance-abuse program.
"We're not afraid of an investigation," Dominik told The Tampa Tribune. "We would welcome it."
Dominik's comments came after it was reported by USA Today Sports that an investigation by the NFL Players Association revealed that the coach talked about Freeman's situation with other players. Pay per head services found out that the NFLPA wants the NFL to make a joint investigation because union officials then could question Schiano as well as other team officials.
A statement on the matter was released by the NFL on Sunday.
"We take the confidentiality provision of the policy as seriously as the union and will vigorously pursue any leads the union provides," the NFL said. "However, such information should be shared confidentially with our office rather than inappropriately leaked to the media before the investigation has been concluded into the matter."
Price per head services saw that on Oct. 3, Freeman was released by team, and last week the player signed with the Minnesota Vikings. When Schiano previously asked whether he was the one who released information about the QB's status, he said "absolutely not."
"We as an organization look forward to cooperating with the NFL and the NFLPA," Schiano said after Sunday's 31-20 loss to Philadelphia. "I've already commented on it, and we'll leave it at that."
Contact us today and let us explain exactly how price per head services work.
In a statement made by Freeman after the reports came to light, the player said that he has a prescription for Adderall for ADHD, but price per head services learned that last year he accidentally took Ritalin, triggering a positive test. As a result of the positive test, the player submitted to frequent drug testing, which led to his placement in Stage 1 of the NFL's drug program.