Poulter vented on Twitter per pay per head sportsbook sources. "It is disgraceful that the @USGA hasn't apologized about the greens," Poulter wrote. "They simply have said 'we are thrilled the course condition this week."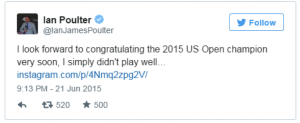 "What wasn't playable were the green surfaces. If this was a regular PGA tour event lots of players would have withdrawn and gone home on Wednesday, but players won't do that for a major. They were simply the worst most disgraceful surface I have ever seen on any tour in all the years I have played. The US Open deserves better than that."
Poulter saw the greens, was upset but vowed to keep quiet until after his play was over. But Poulter wasn't alone in his disgust towards the green.
"I think a lot of the players, and I'm one of them, have lost some respect for the USGA and this championship this year for the greens," expressed Billy Horschel, who shot 67 per pay per head software. "And not only the greens.
One of the biggest issues I have is for the fans … the viewing is awful … when you're not able to get up close and watch championship-caliber players play a golf course, it's disappointing."
"It's just a very disappointing week to be here," Poulter added. "When you come to a championship tournament, obviously you are going to find out who the best player is, but when you neglect one of the skills or take away one of the skills from a player, and that be putting … I'm a really good putter, and I have not had a great week on the greens.
"And it's not due to the fact that my stroke is off or my speed is off. I've hit a lot of really good putts that have bounced all over the world. So it's just frustrating.
I played awesome golf today. I played my tail off to shoot 3 under par. And I really felt like I should have shot 6, 7 or 8 under, but I wasn't able to due to the fact that some of the putts I hit just hit some really bad spots on the greens and got off line and didn't go in."