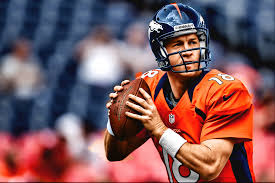 On Thursday, the Broncos announced that Peyton Manning will play again with the team next season, leaving many fans and price per head sportsbooks very relieved to know that their favorite QB will return to Denver.
"I've been working real hard, and I'm excited to be back with the Denver Broncos," said Manning. "Can't wait for April 13 to get here when the team can finally come together. I'm excited to get to work and get to know the new coaches and looking forward to trying to make 2015 a special year."
On Wednesday, the world famous QB agreed to see his salary go down to $15m from the $19m for the season of 2015. On Thursday, the Broncos said that the player was able to pass the physical he was set to receive, and a new deal was signed with the team.
"We're glad to work something out with Peyton so that he will be part of our team this season," said John Elway, GM and executive VP of football operations.
The QB will now have the chance to even out the difference thanks to incentives that are tied with how the team performs during the season. If Denver is able to make it all the way to the Super Bowl, the player will get $2 million, as well as $2 million more if they're able to win the big game.
Manning, who on five occasions was named an MVP, was considering retiring from the sport after Indianapolis beat Denver in the playoffs. However, the QB believes that he still has the drive and health to stay in the game. On the 24th of March, Manning is going to turn 39, and the team's fans seriously hope that all of his years in the game – to not mention the injuries – won't affect him next season, but many of them are confident that he'll be fine.
The QB, who in 2006 won a title while playing with the Colts, had a meeting with Elway some weeks ago after he was taking time to settle following a very difficult season, and he told the football legend that wasn't ready to quit just yet.
NFL fans and price per head sportsbooks were delighted to learn that the QB won't leave the team, as they're very well aware of just how important he is to the Broncos and the football world.