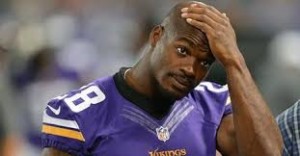 RB Adrian Peterson was deactivated by the Minnesota Vikings for their game against the New England Patriots on Sunday after the player was put under arrest for "reckless or negligent injury to a child." To be more specific, Peterson used a switch to "discipline" his 4-year-old son, and sports software services also learned that something happened down the line, leading the Vikings to see this problem in a completely different light.
Peterson released a tweet as the Vikings/Patriots game was getting ready to kick off:
Rusty Hardin, who serves as the player's attorney, released a statement on Friday, which in part read:
"Adrian is a loving father who used his judgment as a parent to discipline his son. He used the same kind of discipline with his child that he experienced as a child growing up in east Texas. Adrian has never hidden from what happened. He has cooperated fully with authorities and voluntarily testified before the grand jury for several hours. Adrian will address the charges with the same respect and responsiveness he has brought to this inquiry from its beginning. It is important to remember that Adrian never intended to harm his son and deeply regrets the unintentional injury."
Rick Spielman, the team's general manager, spoke to Sal Paolantonio of ESPN about the decision made by the Vikings to deactivate the player for Sunday's game.
"Friday night was the first we heard of the formal allegations against Adrian Peterson, and we decided, as an organization that to reactive him this weekend was in the best interest of everybody concerned," said Spielman.
"As an organization we are still in the process of gathering information, and at the end of the weekend we will discuss what we will do going forward. You don't want to make any knee-jerk reactions. All options are on the table. You can't take any options off the table because we're still gathering information."
Paolantonio reported that the team was unaware that the player was being investigated, but Friday turned out to be the first time that the team heard, "Injury to a child with criminal negligence or recklessness." When the word "criminal" was mentioned, things completely changed for the Vikings, according to Paolantonio, and sports software services can fully understand the team's position on Peterson.