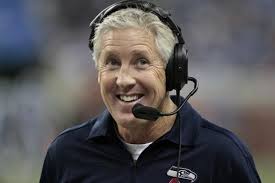 Pete Carroll, Seahawks coach, is not giving in to rumors of RB Marshawn Lynch possibly retiring from the sport. Pay per head sportsbooks heard the gossip, but they also don't believe that the player will quit.
"We're always preparing for the future with him," said Carroll. "We've never thought of the future without him. Hopefully, it will work out."
The comments by the coach were made a couple of two days after GM John Schneider said that it wouldn't surprise him if the RB made the decision to stop playing in the NFL.
The RB's reluctance to commit to the team could in part be due to his situation regarding his deal. Lynch is set to play in his contract's last year, which would see him make $7 million. Carroll said that for a long time both sides held talks for an extension, and he also mentioned that Seattle made "big offers" to their top RB.
The coach said that he didn't talk directly with the player, who in April is set turn 29-years-old.
When Carroll spoke about other key players, he said that in the offseason, strong safety Kam Chancellor won't need surgery in the knee, and CB Richard Sherman won't need it in his elbow, but safety Earl Thomas will have to get his injured shoulder operated.
It's been nearly three weeks since the Seahawks were beaten 28-24 by the Patriots, and Carroll was optimistic, like he usually is. The coach spoke about the highly controversial call that took place when the big game was coming to an end, and he said that he appreciates Bill Belichick's support. Pay per head sportsbooks saw that the New England coach was not very happy at all with those who were critical of the decision made by Carroll to try to make a goal line pass instead of giving Lynch the ball.
"It is important," said Carroll regarding the opinion given by Belichick. "I care. We all care about that. Bill is an extraordinary coach. Anything he says, people should listen to. In this case, he's just respecting coaching. He understands the game. He knows what was going on exactly. He gets it."
Carroll did admit that "there was a time needed for healing," but he also said that he moved on from this setback, and had some uplifting words to say.
"The old adage about the thrill of victory and the agony of defeat, we just watched it," he said. "We just watched it over a 12-month period. It couldn't have been more obvious, and there are great lessons and great growth to come out of that.
"That's what's going on here. A team couldn't have been through more. This will make us extremely strong. Sometimes that's hard to see when it hurts, but that's OK. We'll make it through that. We'll hopefully be a powerful organization."