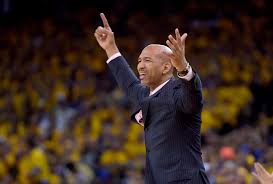 The New Orleans Pelicans have fired Coach Monty Williams on Tuesday. The two are parting ways even though Coach Monty Williams and franchise player Anthony Davis share a strong bond.
The Pelicans owner Tom Benson fired the coach a couple of weeks after he congratulated him and his staff on a job well done, after the Pelicans made the playoffs since 2011.
Bookmakers Software and Pay Per Head Solutions had the Pelicans at 300/1 on March 28th, and they had a very good regular season and were able to stave off the Oklahoma City Thunder for the final playoff spot in the Western Conference.
"Making a decision like this is never easy and is never done hastily, especially when you are dealing with a person of Monty Williams' character," team president Mickey Loomis said. "We thanked Monty for the tremendous work and commitment he made to our organization and the development of our young players, specifically Anthony Davis.
"While we continue to work towards improving our roster, we decided that now was the time to make this decision," Loomis added."We wish nothing but the best for Monty in the future."
Williams' overall record is 173-221 with two playoff appearances since he first landed the head coaching job with the Pelicans. He had a great relationship with Anthony Davis who Williams also coached with Team USA.
"He's a great coach. The whole team loves him," Davis said after the Pelicans were eliminated in the first round of the playoffs by top-seeded Golden State. "He's done a lot for this organization since he got here."
New Orleans made the playoffs in Williams first year with Chris Paul at point. After the departure of Paul Williams was at the helm through the Pelicans rebuild. He never really had the players on his roster to make noise until they purchased players like Jrue Holiday, Tyreke Evens and Ryan Anderson. With the drafting of franchise player Anthony Davis they met their goal of making the playoffs.
"We thank Monty for his dedication and leadership to our team both on and off the court," general manager Dell Demps said."He served as a great role model for our young team and worked tirelessly towards the development of all of our players. We endured a lot of change during the past season and Monty was a steady influence in our locker room. We wish him and his family nothing but the best."