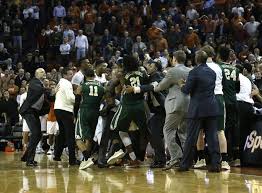 On Monday night, pay per head sportsbooks were surprised when they saw seven players being dismissed in overtime in the 61-59 win by the Texas Longhorns over the Baylor Bears after leaving their benches and taking part in a shoving contest that took place between two players, something that they believe shouldn't have happened in the first place.
Baylors' Johnathan Motley, John Heard, and Ishmail Wainright, and Texas' Cameron Ridley, Kendal Yancy, Prince Ibeh, and Connor Lammert were all ejected from the meeting after the scuffle that took place between Royce O'Neale, Bears forward, and Isaiah Taylor, Longhorns point guard.
With 1:57 remaining in overtime, O'Neale and Taylor were struggling to get a loose ball. Taylor, who felt frustrated, got up after his mouth was hit by what seemed to be an accidental elbow sent by O'Neale. Chris Ogden, Texas assistant, then ran to the middle of the court trying to separate both players, but several players from both teams quickly joined in.
"That's just the competitive nature of the game. My teammates had my back on that play," said Taylor. "Unfortunately, some guys got thrown out of the game, but just knowing the fight in their heart is there really comforts me."
"I think you saw a typical rivalry game," said Scott Drew, Baylor coach. "Two teams that really competed hard and didn't shoot well after a quick turnaround. … I was disappointed the game had to end like that, as far as players leaving and being ejected for coming off the bench."
The rules of the NCAA state that, "leaving the bench area during a fight situation as bench personnel but not participating in the fight" results in an automatic ejection.
Taylor, who had a bleeding lip following the scuffle, was the player to score the floater that won the game in its last seconds. A shot by Kenny Chery was blocked by Myles Turner on the other side so the win for Texas could be secured.
"I think [the referees] did a great job," said Drew. "They explained it and said, get your teams, calm them down, let's find out if anyone did anything wrong. They complimented both coaching staffs for doing a good job breaking up the altercation. Again, these are heated, rivalry games. Credit both teams for not throwing a punch or doing anything to get someone suspended."
Pay per head sportsbooks then saw that once the game came to an end, words were exchanged between the players while many fans were jeering Baylor away.
"When the game's over, players can't do that," said Rick Barnes, Texas coach, as reported by the Waco Tribune-Herald. "I told [Texas forward] Jon Holmes, 'You better be bigger than any situation like that.' I don't care what happens. You can't do that.'"
The newspaper reported that the coaches both sides said that the players that were kicked out won't receive suspension because punches were not involved.