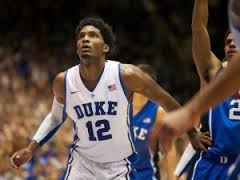 Justise Winslow, a 6-6 shooting guard out of Houston, Texas. This young man is blessed with strength, athleticism a ready NBA body. He is a player that plays with great energy on both ends of the floor. Some would say he is the Michael Kidd-Gilchrist of this draft. I don't share that sentiment. I say he is already better than MGK offensively and has the tools to be a great defender with more seasoning and experience.
Justise Winslow predicts as a top 5-7 pick in the draft. He is actually an unsung hero of sorts. I saw many Duke games and no knock on Okafor and for that matter Tyus Jones; he looked to be the heart and soul of the team. He shows the ability to score in a variety of ways. He can spot up or shot off the dribble.
His shot is not pure, but is not broken. It needs some help. The NBA will drill him to death in that perspective. His three points shooting is ahead of his midrange game, which lends itself to say the jump shot can be fine tuned. He's been historically low on his 2 point field goals.
Throughout his high school years he flashed tremendous talent but struggles to sustain a high level of consistency. He needs to continue to show a high level of aggression and intensity to realize his immense talent.
I believe his ceiling is that of a James Harden and his bottom is MGK. If I as a general I would take a shot on this kid. I believe he's showed enough to be taken in serious consideration. And behind the two bigs can be the next best player.
Sportsbook software and Bookmaker software predict he will best suited with the Magic, Denver and Detroit. Obviously we must wait till the draft selections are settled. When then positions are named I wouldn't be surprised if someone took him earlier then predicted, due to his natural ability's. Most players of his caliber rise when it comes to the Combine and Winslow should be no different. I believe he's best suited for the shooting guard position, but can play both shooting guard and small forward if need be.
He was obviously over shined by the presence of Jahlil Okafor and Tyus Jones took the country by storm with his tournament play, but Winslow can be the best of the group. We won't know until the players have settled in, but I wouldn't put it past Winslow.
More NBA Draft Prospect Watch information from the Pay per Head Pioneer IDSca.com:
Prospect Watch: Emmanuel Mudiay
Prospect Watch: Willie Cauley-Stein