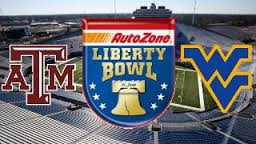 Texas A&M are getting ready to take on West Virginia when the Liberty Bowl gets underway, with both teams having very dangerous offenses along with doubtful defenses, which could make for a meeting with lots of points. Early during the season, both teams were very impressive, but pay per head wagering companies saw that then things went downhill for them, and this means that the Aggies and Mountaineers will want to win a bowl game and save their season.
QB Kyle Allen led Texas A&M during the season's last month, helping them beat Auburn. But the player was not able to lead the team to win when they faced Missouri, giving up almost 600 offensive yards. He was also unable to break a very determined LSU defense in the last game of the regular season. However, taking on West Virginia could prove to be better for Allen and his team, instead of November's defenses in the SEC. Texas A&M's rushing attack is not very powerful at all, considering that the QB is not very good with his running game. However, the team does have plenty of receiving targets – something that could give West Virginia a lot of problems if Allen gets time within the pocket, and many fans hope to see this happen.
The Mountaineers' offense has more balance, and they should have the ability to counterattack, especially since they have a QB with more experience. This season, RB's Wendell Smallwood and Rushel Shell effectively overshadowed the record of 1,400 yards, as QB Clint Trickett helped give a great season to the team, as 67% of his passes were completed, and more than 3,200 yards were thrown, which happens to be twice the amount that he recorded last year. This year, WR Kevin White was the QB's top target, having caught the ball 102 times, while WR Mario Alford has 10 TD receptions, leading the team. This season, just Texas, Kansas State, and Alabama were able to hold West Virginia to less than 30 points.
Both teams must work on their defenses, and there isn't much time. Texas A&M can work on the field and pass the ball just like any other college football team, and West Virginia are bringing an offense with more balance, as well as a QB with proper experience. This game comes down to both team's defenses, but pay per head wagering services believe that the Mountaineers have an edge over the Aggies.