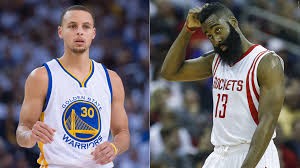 It has been one heck of a NBA regular season, NBA betting fans and pay per head agents have watched in awe as a handful of 2015 basketball MVP potentials shot their way to fame and glory. Thursday night saw a probable winner of that prize; Stephen Curry of the Golden State Warriors.
Thursday's game was stunner for Curry with 45 points, 9 assists and made 17 out of his 23 shots, and breaking an NBA record. His shots came out of nowhere and surprised the Portland Trail Blazers, beating them 116 to 105.
Of course the winner of the Maurice Podoloff trophy has yet to be decided, and there are still a few contenders intent on adding the title to their resumes.
James Harden of the Houston Rockets was not about to let Curry get in the way of his chances.
" feel as though I am the MVP," Harden told NBA.com's Fran Blinebury. "I think the MVP is the most valuable player to your team. Obviously you have to be winning and be one of the top teams in this league and we are."
"I'm not taking credit away from anybody else in the league. But I've been consistent all year. I've just been doing the right things to put my team in situations to win, considering all of the different circumstances we've had to deal with."
Pay per head agents report that Harden leads the league with an average of 27.6 points per game. Curry has helped his team to win an impressive 64 games out of 79. Which one has made the bigger impact?
"I'm looking at all those things put together," Harden said. "Like I said, not taking away from Steph or that team. It's an unbelievable season that they're having. But we're having a pretty good season as well with all the injuries and all that we've been going through this season."
"Look, I understand that people can go either way with it. But for the most valuable player, I think I would have the edge."
With Harden and Curry so close, and being singled out as the likely winners of the 2015 basketball MVP, that doesn't mean we have completely ruled out the others that are also so close.
Lebron James of the Cleveland Cavaliers is still part of the race with Russell Westbrook, Anthony Davis and Chris Paul, however as the finish line nears, NBA betting fans are thinking they're out of time.