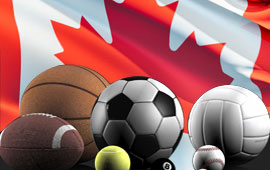 By the time the Canadian senate returns to debate to pass Bill C-290, which would legalized single sports betting in Canada, the Super Bowl will be over. Canada will have missed the opportunity to take in millions in revenue from the biggest betting day of the year, but price per head agents won't have lost.
Just because single sports betting isn't allowed doesn't mean that Canadians aren't betting.
Canada has boomed over the past few years with pay per head sportsbooks and off-shore books have always taken their wagers. Kahnawake, Quebec is home to Sports Interaction and Bodog and allow wagers to be placed online.
In a survey by Ipsos Reid three quarters (74%) of Canadians agree "(22% strongly/52% somewhat) that legalizing single event sports betting in Canada would allow for greater regulation and oversight of sports betting."
"Expert witnesses have had nothing but praise for this bill," said Bill Rutsey, CEO of the Canadian Gaming Association. "They recognize that only a small portion ($450 million) of the $10 billion being wagered by Canadians is wagered through provincial sports lottery products, which means that Canadians are turning to offshore sports books or illegal bookmakers."
"I find it puzzling that the leagues are willing to surrender billions of dollars to criminals and allow further billions to head offshore," said Rutsey. "This could certainly make a difference supporting programs like health care and education, and creating jobs."
"We want to regulate sports wagering so that it can be controlled and monitored," Rutsey went on. "Experts will track patterns in order to identify suspicious play, and will tip law enforcement off. You have to look no further than Europe to know how effective advanced technology has been in allowing sports federations and law enforcement agencies greater visibility on betting patterns, profiles, and fraud detection. Again I repeat – this is not something that professional sports should be fighting."
Maybe Canada will have single sports wagering available by the Stanley Cup, but for the amount of time it's taken so far, I don't know if I would bet on it.
Start your own pay per head sportsbook today with IDSca.com