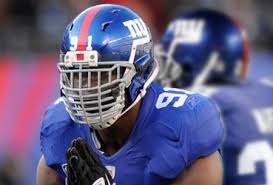 Pay per head services were surprised to learn that on Sunday, Justin Tuck, New York Giants defensive end, said that if any teammate turns against Tom Coughlin, he will punch him in the mouth.
The player made the comment after the Giants dropped to 0-4 when they were defeated 31-7 by the Kansas City Chiefs, and pay per head services could see that there was plenty of disappointment.
"If anyone turns on our coach, I would be the first one to punch him in the mouth," Tuck said, as reported by the New York Daily News. "And put that in print. It better not happen, I know that."
Victor Cruz, Giants WR, questioned one of the decisions made by Coughlin in their game on Sunday. Price per head services saw that as the team was behind 10-7 late in the third quarter and faced a fourth-and-1 at their 30, Coughlin decided to punt instead of going for a first down.
"We've got to take a risk at some point and make something happen," Cruz told reporters.
Dexter McCluster returned the punt 89 yards for a touchdown, giving Kansas City a lead of 17-7.
But pay per head services found out that on Monday, when he was asked about Cruz's comment, Coughlin said that he was not worried, and he even joked about the issue.
"I gave him a chance to say something today," Coughlin said, laughing. "I asked him if he wanted to fight?"
And when he was asked how Cruz responded, Coughlin said, "That's between he and I, but it was in good humor. I didn't ask him what his thinking was.
"I don't understand why you guys would make so much out of something like that, but it's kind of comical. That circumstance, that quote there, you should have just realized it was frustration."
Contact us today and let us explain exactly how pay per head services work.
Pay per head services know that it's the first time that the Giants are in a non-strike season since 1979, and are 0-4 for the first time since 1987, and they can't wait to see how they continue to perform this season.