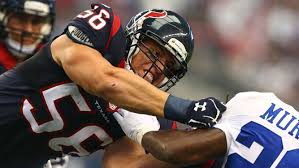 Brian Cushing, Texans inside LB, suffered a fractured right wrist, and part of last year he was playing with the injury. When the season finished, he had to get surgery to correct it, and now pay per head services learned that the player will have no choice but to wait it out.
"I got surgery because it was something that had to be fixed," said the LB, who last season was also working through the aftereffects of two surgeries to the knee that he received during the two off-seasons before that.
"But I was playing with it broken for a while. … It was kind of one of those things, after a game I woke up and it was sore. I've bumped my wrist before … didn't think it was a big deal, got a little better, got a little worse. This kept getting worse and worse. I figured something was up with it."
Even though this is something that the 28-year-old player would rather not have to go through, this time around his recovery won't be as hard as the ones that he had done before. Cushing suffered a torn ACL on the 8th of October in 2012. Then he had a broken leg and a ruptured LCL on the 20th of October in 2013. The player's fans could see that performance was affected by the surgeries.
Cushing ended up missing two meetings as Houston decided to rest to his injured knee, and in several more contests Cushing was playing on a limited basis.
The LB said that it will take three months for the wrist to heal, and he suspects that part of this time was given for him so he could be easier on himself, and pay per head services believe that it's very important for him to take it easy for a while if he wants to return to full health.
"I do need to take time off," said Cushing. "I think that's kind of the reason I'm really in a cast for a long time. Originally they told me four weeks. Then all of a sudden, eight weeks. I think they just wanted me to limit what I'm doing. … I have a very aggressive mindset on training. I'm not really big about easing into things. I've done it for a long time and it's worked for me. I kind of have a mindset about it. Sometimes have to tone it down, especially as I'm getting older."