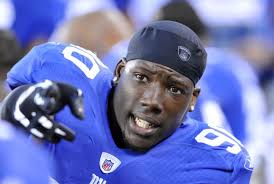 Pay per head sportsbooks found out that Jason Pierre-Paul, defensive end for the New York Giants, does not want to shut down his season because of his shoulder injury, but the player admits that he already looks forward to having no more physical problems in 2014.
"When I come back next year, I don't think there's going to be a tackle in the league who can stop me," Pierre-Paul said after practice Wednesday.
The player did not actually practice on Wednesday, even though he did work with trainers on the side. Pay per head sportsbooks saw that in Week 12, Pierre-Paul played less than half of the team's defensive plays against the Dallas Cowboys and was not active for their game in Washington on Sunday due to the shoulder injury that he suffered victory over the Oakland Raiders in Week 10. The player said that struggling with the shoulder injury was frustrating, since he finally felt back to full strength in Week 10 after receiving back surgery during the offseason. However, the pain he felt in the Dallas game would simply not let him function, and price per head services know problematic this was.
"It was painful," Pierre-Paul said. "What I expected to do, I didn't do. It got to a point where I could only go out there on third downs, basically. I'm out there rushing with one arm, and I'm trying. But you get to a point where you can't be Superman. You've got to come out and hope the next guy can do better than you."
The player said that he's rehabilitating "24/7," and treating the injury when he's not at the facility. Pierre-Paul and many pay per head sportsbooks hope that he can avoid surgery because "that would set me back even more," and said that if he can help it he does not want to sit out during the season's last four games.
Contact us today and let us explain exactly how pay per head sportsbooks work.
"I'm doing everything I possibly can to put myself back on that field," Pierre-Paul said.
"Shutting down is not in my vocabulary. Otherwise, I would have shut it down when I got the injury in the Oakland game. Even if I can get back for one game, that would be worth it to me. I'm not going to be myself until next year. I know that. I was starting to get there before this injury, but the way I feel now, I'm not going to play unless I'm going to be a factor and I know I can protect myself."