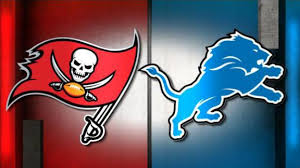 The Lions appear to be on their way to the playoffs, but things don't look as good for the Bucs. Pay per head services can see that Detroit are only 2-5 SU and 1-6 ATS in their last seven home meetings with NFC South opponents. The Bucs are 6-1 ATS the last seven times that they played in the NFC North. Now, former rivals in the division are set to square of off when the Lions (8-4) face the Bucs (2-10) at Ford Field on Sunday.
The betting line opened with the Lions being the favorites by 8.5 points, and 41.4 was the total.
Tampa Bay were just beaten by the Bengals 14-13 at home, and they ended up missing an opportunity to make a field goal that would have won the game when it was coming to an end.
The Bucs ended up losing to the Vikings in overtime, were beaten by the Browns, the Falcons – then they beat the Redskins on the road, lost their road game against the Bears, and then the Bengals beat them.
The Bucs were actually able to outgain four out of the last five teams that they took on. Finally, Tampa Bay just took out Detroit 24-21 at Ford Field in a game that took place a year back.
Detroit recently broke a losing streak of two games last Thursday when they beat the Bears 34-17, covering the game as the favorites by seven points. After a quarter, the Lions were behind 14-3 – then they were able to outscore Chicago 31-3.
Detroit were able to get two scores as well as 91 yards from RB Joique Bell, in the game that could have been the best one that he played so far this season, QB Matt Stafford was able to hit on 34 out of 45 throws made for two scores and 390 yards, and Calvin Johnson recorded 11 catches made for 146 yards as well as the two TD's.
So at 8-4, the Lions are currently at a tie with the Seahawks for the top wildcard position in the NFC, and the team knows that they can't slip up.
It's very likely that the Lions will win this meeting, but Detroit might be a bit too hyped up with many bettors. Also, the only moment in the season where the Bucs were the dogs in the double digits, they were able to take the Saints straight to overtime at the Superdome. Therefore, many experts and pay per head services believe that going for Tampa Bay would be a proper choice.