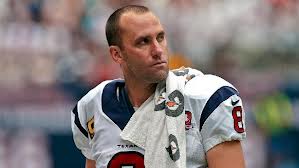 Houston Texans QB Matt Schaub did not initially know that some fans were cheering his injury in the third quarter of Sunday's game against the St. Louis Rams, but he was disappointed when did find out, and pay per head services were also not happy at all.
"I'd hate to think anyone out there, regardless of who was injured — on our team, on the visiting team, whatever the situation is — that people would be like that and act that way," Schaub said on Monday during a radio appearance that aired on Sports Radio 610. "There's no place for that in this game and there just really isn't."
Schaub said that during the game he was more focused on dealing with the injury, getting taped up and maybe returning to the field. Pay per head services saw that the player echoed coach Gary Kubiak's characterization of the injury as being one on his right ankle, foot and lower leg.
"Just watching it on film, it could have been a lot worse," Schaub said. "I thought it was a lot worse based on how that happened and the popping that I heard. It must have come out and come back into place. I'm thankful it was not worse."
Price per head services saw that when Schaub left the game, Houston were losing by 25 points, and the player completed 15 of 21 passes for 186 yards with no interceptions or touchdowns.
Schaub didn't talk to reporters following the game and on Monday was unavailable to the media. The Texans said he was not available due to conflicts regarding treatment.
Kubiak said that Schaub's playing status would be an end-of-the-week decision. When he was asked if the player would start against the undefeated Kansas City Chiefs if fit, Kubiak said, "we'll have to see where we're at."
Said Schaub: "I can say this, I'm going to do everything I can to be ready to go. I'm spending day and night working on things, getting treatment, doing things at the house, in the training room early, making our trainers get up in the middle of the night so we can do a little extra …
Contact us today and let us explain exactly how pay per head services work.
"That's where we're at as a football team, and that's the way I'm built."
Pay per head services hope that Schaub recovers as quickly as possible, and would like to see those fans that jeered him get a virtual slap in the face when they see the player healthy and back on the field.