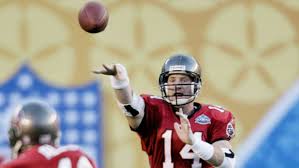 Apparently, modifying footballs is nothing new in the NFL. Fans everywhere were taken aback when they learned that the suspected "deflate-gate" incident involving the Patriots might not have been the first time that footballs were allegedly altered. Pay-per-head sportsbook services were also surprised – especially when they learned about what the former player had to say about this.
The Patriots are currently criticized after it was reported that 11 out of their 12 footballs used in their AFC Championship Game win on Sunday over Indianapolis were not inflated enough. However, ex-Bucs QB Brad Johnson said that for Super Bowl XXXVII – approximately 12 years ago – he paid two ball boys to modify all of the game's 100 footballs.
"I paid some guys off to get the balls right," said the former QB when he spoke with the Tampa Bay Times. "I went and got all 100 footballs, and they took care of all of them."
He then told the paper that $7,500 was what was paid for the action. In that game, the Bucs beat the Raiders 48-21, and Johnson was able to complete 18 out of 34 passes made for 215 yards, with two TD's and one pick.
However, pay per head services saw that some differences exist with the actions of Johnson and what the Patriots allegedly did. In Super Bowl XXXVII, Oakland were also using the balls that were allegedly scuffed, as Indianapolis have been limited to their share of footballs for the matchup while playing on offense in the latest championship game of the AFC. And in the loss, five picks were thrown by Raiders QB Rich Gannon, so the scuffed footballs didn't exactly prevent Tampa Bay's defense from choking Oakland.
Johnson also spoke with the Tampa Bay Tribune and said that he doesn't regret what he did.
"There was no wrongdoing on my part, nothing malicious, I didn't do anything wrong," Johnson said.
"I thought it was right for everybody because I heard all those quarterbacks, from (Joe) Montana to (Troy) Aikman, talk about it and how all those (Super Bowl) balls are so slick.
"So I was trying to help the game for everybody. I never got to touch the balls before the game, only just before kickoff, which was always the case no matter what game it was."