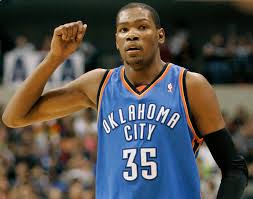 Kevin Durant said that last season he was too obsessed with leading the Oklahoma City Thunder to a championship, and well, pay per head services were happy to learn that he acknowledged it.
Pay per head services could see that even though the player he had another amazing season, with 28.1 points per game, and shooting 41.6 percent from 3-point range and 51 percent from the field, his obsession with winning a title personally affected him, and he even ended up taking it out on others.
"Last year, I was obsessed with it," Durant told The Oklahoman of winning a title. "Like, I wasn't going to sleep because I wanted to win so bad. I was screaming at my teammates, at the refs, at the coaches. I got mad because I thought 'if we have a bad game here, we're not going to win a championship.'"
Price per head services saw the cracks show up in his behaviour on the court, as last season he was called for 12 technical fouls – surpassing his total from the last five seasons combined.
Durant felt that each night he needed to play perfectly, and he held the Thunder to that same standard.
"Like, for me, when I was coming in I was like 'If I miss a shot, I'm going to miss this shot in Game 6 of the Finals,'" he said in the report. "'If we don't play defense this game, we're not going to play defense in the Finals.' Like, I was thinking like that. And I was going home and I would get so mad over small stuff. That's not me. So I was losing myself over what people thought, what other people thought."
That title chase ultimately fell short when Oklahoma City, except for injured Russell Westbrook, ended up being eliminated by the Memphis Grizzlies in the playoffs' second round.
Being a year older, Durant has a different approach with a new season getting nearer, and pay per head services hope that he lives to what he says.
Contact us today and let us explain exactly how pay per head services work.
"So I'm not going to let that overtake my mind," Durant told The Oklahoman of his championship chase. "I mean, of course I want to win it, but I'm not obsessed with it. I'm going to put in the work to help my team, but I'm not going to be obsessed with it because that's when I compromise myself, and most of the time it doesn't work out."