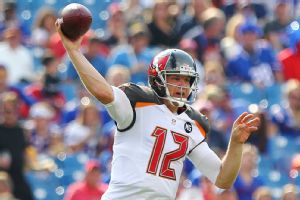 The Buccaneers' fans hope that their team wasn't hit too hard, as Josh McCown, their starting QB, will be out of the game due to a sprained thumb, and he won't be able to hit the field for a while. Pay per head agents know what an important player McCown is to the Bucs, and would like to see what the team will do in his absence.
According to sources, McCown will be tested again on the sprained thumb that he injured when the Bucs were defeated on Thursday night by the Falcons 56-14. The source reported that it will be very likely that the player will end up missing "several weeks" of action while he heals from the injury, and many fans are knocking on wood, hoping to see the QB back on the field for Tampa Bay as soon as possible.
The player was injured when he banged his thumb on an opponent's facemask, and the opponent in question was Falcons CB Robert McClai. Mike Glennon, who in 2013 was the Bucs' starter, will be the one to take the place of McCown. Many fans know that the team and their fans are seriously relying on Glennon, and hope that he'll prove to be a proper replacement at the QB position.
McCown signed a $10 million, two-year deal with the Bucs during the offseason after the player completed last season 13 TD's and one interception when he took the place injured starter Jay Cutler of the Chicago Bears. McCown, just like the Bucs (0-2), was seriously struggling as the season progressed. With four interceptions, the player is tied for most in the league.
The player is set to get an MRI test, and the results will determine if he will at least not play at Pittsburgh on September 28 in the Bucs' next game. Now many fans and pay per head agents can only wait and see, as they believe that the player is a key asset to the Bucs, but also know that the most important thing is for him to make a full recovery