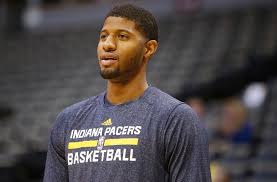 Pacer fans, you're in luck. The Indiana Pacers are targeting franchise player Paul George's return within the next week or so. It can actually happen as early as Saturday against the Brooklyn Nets. Nothing is set in stone, but on Friday they will update George's status before Monday's shoot around. He's been putting up shots and running the floor in contact practices for weeks. He's recovery has been a bit slow from the broken leg he suffered in a team USA scrimmage in August.
George said "A lot of guys know I'm pushing to come back," he reiterated after missing his targeted debut "It's a matter of how I'm feeling and (how) the medical staff thinks I look."I definitely want to play still. … But I want to be fully healthy." Head coach of the Indian Pacers Frank Vogel had this to say "He's not ready yet, but when he is, we'll let you know."
The Indian Pacers set an estimated timetable of March 1st. He beat that date by three days. That is a remarkable feet for George after he was expected to miss the entire season. Youth plays a major part in an athlete's ability to make a return to his sport. Youth is on George's side.
The Pacers currently hold the 9th spot in the Eastern Conference Standings, with only the Boston Celtics above them. Price per head agents have the Pacers at 66-1to win it all, nowhere near the top dogs of the league. If George returns in good form he can bump that up, especially in the Eastern Conference where the Pacers can out like a Phoenix from the ashes. They were one of the best last year and with a full deck of cards, watch out.
There some people, even Pacer teammates that still don't believe. Earlier in the week, the Indianapolis Star quotes an unnamed Pacers teammate saying George was "not even close to 100 percent." If George does return he has noted that he would be cautious and it would be just to "get his feet wet."He thinks he will be fully recovered until next year.
Even though Paul George and Larry Bird are both optimistic about the players intended return, George himself had to pull back the reins. There is also the question of if his return would disrupt the current chemistry. Nope, not George your best bet is with him, without him the Pacers are going nowhere.