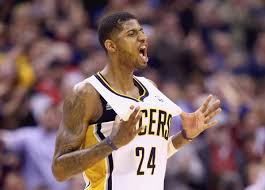 Sources reported that the Pacers' Paul George could return to action on the 14th of March in a game against the Celtics, which is sooner than was originally planned. Live betting services see many optimistic fans, and they're confident that the team will get a massive boost when the world famous shooting guard returns.
The All-Star wasn't able to feature for the team since the 1st of August after he suffered what was a very nasty compound fracture on his right leg while playing for USA Basketball in an exhibition meeting. He tried to block a shot and had an awkward landing, which caused the fracture. NBA fans who saw the injury saw that it was nothing short of grisly, but his recovery seemed to have gone very well.
"March 1 isn't when I wanted to play my first game, but when I wanted to be full-out practicing, doing up-and-down full court without any restrictions or limitations," said the player. "From there on, it's seeing how far I can progress to where I play my first game. My hope is it's an opponent where I feel comfortable coming back to where there isn't too much pressure to perform, where I can ease my way back in. But I want to say around mid-March, I could probably come back around that time."
The guard's return would be a very big boost for Indiana, as they're now 21-33, and sitting two meetings out of the eighth and last spot for the playoffs in the NBA's Eastern Conference.
If the Pacers can get a spot in the playoffs, George, who last season had an average of 21.7 points – a high in his career – said that he can foresee a first-round clash with the Cavaliers or the Hawks.
"That would be ideal," George said about playing Atlanta or Cleveland in the first round of the playoffs. "I think if that happens the story kind of writes itself. That would be ideal, especially if we go against Atlanta in the first round because we were the first seed last year. That's a rematch they want for sure as well."
Pacers fans can take comfort in knowing that George is getting ready to return to action after the horrible injury that he suffered, and live betting services are also very excited, waiting for him to shine on the court once again.