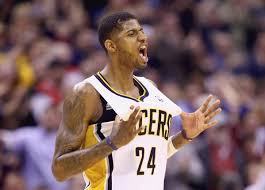 Just in time for the race to the NBA playoffs, players are coming back to help their teams.
First up, Paul George, who broke his leg last summer, will suit up Sunday for the first time this season for the Indiana Pacers as they take on the Miami Heat.
He had suffered a compound fracture of the tibia and fibula when he crashed into a basketball stanchion while playing for the USA Men's basketball team and it was believed that he wouldn't play at all this season.
The 23 year old seemed excited to be back as he tweeted Saturday morning, "Game shoes! Time to get some burn Sunday night!!! Can't wait!!!"
"The recovery has been a long process and this is another step in the process," George said in a statement released by the team. "I thank everyone, my family, friends, doctors, our training staff, coaches, the entire Pacers family for their support and encouragement. I'm excited, but at the same time I'm aware I'm still in a rehab stage and will continue to work to get back to full strength."
Larry Bird, president of operations for the Pacers said that George would not be on the court for very long at first, allowing him to adjust to the heavy demand on his leg.
"We're happy to have Paul back in uniform, and this is just another step in his rehabilitation from the injury," Bird said. "He has worked hard to get to this point and still has work to do, but it's a positive step toward what we hope will be a full recovery at some point. His minutes will be limited in games he plays as we evaluate his progress moving forward."
Last season George averaged 21.7 points per game and will be a valuable asset to the team in their NBA playoffs hopes.
Derrick Rose of the Chicago Bulls started practicing with the team this week and looks like he will be returning also with limited floor time.
"He's not going to be at where he was when he left off and anybody who has missed that amount of time, that's the normal protocol," Bulls coach Tom Thibodeau told the Chicago Tribune. "We'll see when he's ready to go. Then we'll decide how much. "