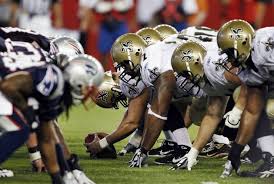 The Saints and Patriots game line posted by price per head bookmaker services for week 2 of the NFL preseason has both teams evenly matched. The Patriots narrative for this game will be to see if their offense starts to click with Jimmy Garoppolo at the QB position. Much like the Patriots, the Saints are also coming from a loss on their first game, however Drew Brees did not play. This week both teams will look onto displaying much more offense than in week 1, however their secondary lines will very likely take center stage.
It must be tough to be Jimmy Garoppolo, suddenly he was propelled to the forefront and in the center of attention during the preseason and for the first four games of the regular season to cover for one of the greatest Quarterbacks of all time. Last week he had a rough time against the Packers, being sacked seven times in the game. Versus the Saints, Tom Brady will likely get some playing time at first, but probably not more than a couple of drives, before a change is made. Bill Belichick did state last week that Garoppolo was not getting much help from his WRs, so one would think that the Patriots did place a lot of focus on running their pass routes for this game. They will definitely will try to ge the ball in the air for this one.
The Saints on week 1 loss by three points versus the Ravens on the road, and there were stages on the game that looked as though they could have pulled off the W. It must me said that they looked ok even without their star quarterback. This week, considering the opponent and the fact they will be playing at home, the Saints might play Brees at least for a Quarter or perhaps a bit more. They will want to test their receiving game. The biggest concern they have coming into the game is the status of their defense and their secondary line. This could prove a problem since the Pats will be looking to test their passing game on them.
Price per head bookmaker services might have the line change in the coming hours, but if it does, very likely it will favor the Saints. However for this game, New Orlean's defense might struggle throughout the game. We predict that this will be a high scoring game and that the Patriot will win by more than 3 points.