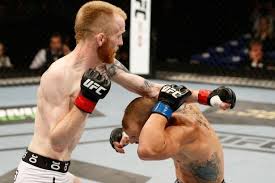 After a very a successful debut in the UFC that impressed fans around the world, Patrick Holohan – who has a 10-1 record – was able to beat Josh Sampo by submission in the first round, and the "Hooligan" wants to keep on winning this Sunday after he was beaten by Chris Kelades in October – a loss that only proved to be the first one in his career. Bookmaker software services are now anticipating a very intense showdown when he faces Shane Howell in Boston on the 18th of January, in a clash that UFC fans everywhere can't wait to see.
His first time around, many experts saw the Irishman showed moments of great talent, as he rocked Sampo before finishing the fighter off using a very nice rear-naked chokehold, with the Irish fans who attended cheering him on. Kelades beat the fighter right to the punch on very short notice, giving him and many fans a very big surprise, and Holohan wants to see things work out differently in this upcoming fight.
If Holohan is looking to clinch the eleventh win in his career in the showdown in Boston, he will have to keep Shane Howell – with a record of 13-8 – at bay, and many fans believe that he should have no problems doing this. This last June, when he made his debut in the Octagon, Howell was UFC prey, when in just over two minutes Ray Borg pasted the fighter and then chocked him out, surprising many fans in the process.
Howell's debut was made after he was away from the sport for almost two years, and in all of the areas he was not looking very comfortable at all, something that many fans could clearly see. On the other hand, Holohan was able to keep his full composure, making very impressive displays in his career so far in the UFC. Fans all over the world are expecting a massive performance by Holohan as he keeps control in every single area of the clash.
Experts and bookmaker software services all over the world believe that the Irishman's excellent movement will be put to very good use in the Octagon, with Howell taken straight to the mat before he gets an early submission, but what will ultimately happen in the ring is yet to be seen. Still, it might be a good idea to go for Holohan in this upcoming showdown.