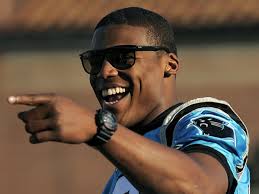 The Panthers renewed the vows to the love of their lives, one Sir Cam Newton. They extended the electric quarterback and at the same time let the world know how they felt about their franchise Center piece.
"We believe he'll take us to the Promised Land," general manager Dave Gettleman said on Tuesday after Newton signed a contract that makes him third-highest-paid quarterback in the NFL based on an average salary of $20.76 million a year.
Online Bookmaking Solutions have the Panthers at 45/1 and with only one playoff win in 4 seasons Newton felt he deserved a long term deal.
"I'm thankful this opportunity came and it's over with," Newton said. "Now that I can focus on playing football and getting the Carolina Panthers to the Super Bowl and winning the Super Bowl, it puts me somewhat in cruise control at the moment.
"But yet, me understanding so much is going to be expected of me for more."
Sportsbook Software might be inclined to lower the odds if Carolina where ever to find weapons for Cam. The terms of deal per Gettleman where $60 million in guaranteed and Newton will be paid a robust $67.6 million in the first three years. It's broken down even further to the tune of a 22.5 million signing bonus, a $7.5 million roster bonus.
Newton must be stoked for this deal that puts him in the upper echelon of quarterbacks in the league.
"I've never been the type to compare and contrast wages more so [than] comparing and contrasting the most important stat of all of sports, and that's wins and losses," said Newton, who has a record of 30-31-1.
"I know I'm nowhere where I want to be right now, but yet that gives me more drive to get to where I want to be … sooner rather than later."
The deal was actually struck up within 11 days, adding to both the teams and Newton's interest in keeping it together.
"You guys are making more of a big deal about it than I was," he said. "With me finalizing everything, it makes this whole process easier for me, knowing I don't have to go into training camp answering these types of questions."
Newton is now set to become a top 5 quarterback in the league with the contract to boost. The talent has never been in doubt neither has been his leadership skills; they just have to put it all together.