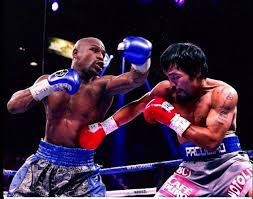 Manny Pacquiao is 80 per cent sure that he will take on Floyd Mayweather in May, which is music to the ears of many fans and online bookmakers. However, he said that if the fight doesn't happen, there will be consequences.
The Filipino's advisors said that they agreed to the clash with Mayweather, set to take place on May 2 in Las Vegas.
The American's team, in the midst of talks on having a another fight with Miguel Cotto, stressed that no deal was finalized, but also said that on Super Bowl Sunday they're set to make an announcement, and many fans can't wait to see what they will have to say.
And the Filipino – who said that he would be more than happy to take a smaller purse percentage for the fight to happen – suggested that if the clash, which could be the most expensive one in the history of the sport, doesn't happen now, it never will, and many fans fully agree.
"I think it will happen, I believe that," he said
"If this doesn't happen now I don't think it will, so now is the time.
"If you ask me what the percentage is, it's 80-20 [that it will happen.
"I think he's got pressure. He's got no alibi – blood testing is no longer a problem, Bob Arum the promoter is no longer a problem, now there are no more problems.
"The fans are pressuring him. I tell them we have agreed everything, the rules and regulations are not a problem.
"And if you want it higher, I am happy with that. I will take 40 [per cent of the purse] to 60. I'm OK with that – for the sake of the fans.
"We are just waiting for you to sign the contract."
Mayweather and Pacquiao were on their way to square-off in 2011 before the blood testing problem showed up, when the American said that even though he was fine with having been given a random test, his opponent wasn't.
However, as the Filipino is now eager to not get in the way of a huge fight, he and online bookmakers around the world believe that the legacy left by his opponent will be hurt if they don't fight.
"If he doesn't want to fight in his boxing career it is bad for him," he said. "But if he wants to fight, that is the best thing he can do."