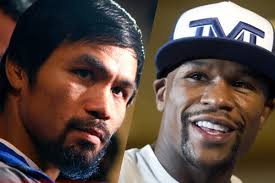 Boxing fans all over the world are very excited, as it seems that Manny Pacquiao's highly anticipated clash with Floyd Mayweather is closer to becoming a reality after terms were released by rival TV networks on how the fight will be televised. Live betting services know how long the fans have been waiting for this meeting to happen, and were very pleased to learn that things seem to be moving in the right direction.
Once again there is hope that the world famous fighters could square off when Pacquiao agreed to Mayweather's demand list for a showdown planned to take place in Las Vegas on the 2nd of May.
However, one more obstacle was apparently cleared, as HBO, who's working alongside the Filipino, and Showtime, the American's network, are believed to have held successful discussions regarding sharing what is set to be a massive pay-per-view fight.
Bob Arum, Pacquiao's promoter, thinks that just two 'issues' are getting in the way of the clash, and fans all over the world hope that these problems get resolved as soon as possible, as they've already waited long enough for this fight to take place.
"We had four issues and we resolved two," said the promoter. "Now we're working on resolving the other two. Unless something else comes up at the last minute, that's what my take is."
Last week, Mayweather dismissed claims made by the media saying that a deal has already been made, and the fighter didn't want to refer to any talks, even though there were suggestions that an announcement on the fight would be made during the Super Bowl, and many fans were eagerly awaiting news of the clash.
Arum said that the main financial issues of the showdown were already agreed on, which include what has been reported to be a 60-40 division of the purse – in the American's favour.
However, the promoter said that there is still work to be completed in order for the mega-fight to finally take place.
"There's a lot of devil in the details and that's what we're sorting through now," he said. "The remaining issues are obviously important to the participants, and are things we have to work out."
Live betting services know that there is still work to do for this fight to finally take place, but after learning of these recent developments, they're confident that this fight will definitely happen, and soon hopefully at the given date.