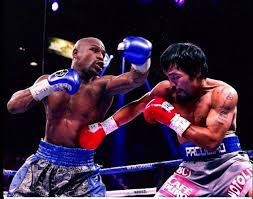 Manny Pacquiao called out to Floyd 'Money' Mayweather after the Filipino fighter was able take out the latest opponent that challenged him for his WBO welterweight title. His trainer and promoter also want to see the American meet him in the ring, and internet bookmakers believe that it's about time.
"It's been a long time since I've been wanting this fight, it has to happen," said the Pacquiao.
"The fans deserve it. It's a good thing that we talk about that fight. It's time to say yes."
Trainer Freddie Roach and Bob Arum, his promoter, were much more direct when they called for the undefeated and word-famous "Money" Mayweather – the champion of the light middleweights.
Before, Mayweather and the boxer's promoters found several reasons to avoid seeing the fighter take on the eight-time world champion, but Arum – who is 82 years old – tried to secure the showdown for almost four years, saying that "enough is enough", and many fans can see that he has a point.
"No excuses. Manny knocked Algieri down six times in one fight. That's twice as many knockdowns as Mayweather has had in all his fights in the last 12 years," he said.
"All they have to do to is pick up the telephone. I'll be at the phone. Manny will be at his phone," added the promoter.
Freddie Roach, the Filipino's trainer, said that if they never went face to face in the ring, there would an asterisk floating over the boxers' careers.
"I think there will…always be an asterisk on their records," said the trainer.
"Let's face it, the best should fight the best and they've been the best guys out there.
"This is something that will haunt them forever if it doesn't happen."
The trainer said that no matter how much he wanted him to come to the negotiating table, he was also aware that it would be very tough to get the Filipino ready for the clash.
"He will be the best opponent that we've ever faced. I will really have to do my homework with Mayweather because he puts a lot of things together a lot better than most fighters."
But internet bookmakers saw that Roach was even more confident that it would take place after the Filipino's latest beating of Algieri, which left many fans very impressed.
"Put it this way, I'm starting to watch tapes of Mayweather."