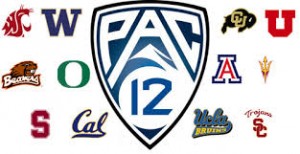 The Pac 12 Conference Odds are now available at the pay per head sportsbooks.
First up, Oregon Ducks are at the top of the list with odds of 9 to 4, and this powerhouse has had Nike the Opening in its own backyard, making recruiting a little easier than for most. The event showcases the nation's top 162 high school football players at recruits in Beaverton at the Nike Headquarters. Hopefully they found a few linebackers that they are sorely needing.
USC Trojans are among the top 10 schools Nigel Knott is interested in, but will he go west? The Trojans do have a have already had a commitment from outside linebacker Jordan Iosefa, their third commitment in the last three days, along with defensive linemen Keanu Saleapaga and Liam Jimmons,
Stanford already had a commitment back in May from Linebacker-running back Beau Bisharat, and this Tuesday offensive lineman Clark Yarbrough also gave his yes. Pay per head sportsbooks will have to wait to see who else will be wearing Scarlet this year.
UCLA Bruins picked up quarterback Matt Lynch in May and also fullback Jalen Starks and defensive linebacker, Marcus Moore, as well as 4-star ATH Dymond Lee and kicker/punter JJ Molson. The Bruins have lost a few players that previously committed, but there are still a few more that they are interested in.
Arizona State Sun Devils picked up Jeremy Smith of Missouri City, Texas on Wednesday with Smith tweeting to his fans and followers, "I'll be taking my talent to Arizona State University".
Not one to keep to himself on social media, ASU's head coach Todd Graham tweeted, "Boom!!! Just got better!"
Pay per head sportsbooks have long been fans of the Pac 12 Conference and can't wait for the start of the new season. For more information about these Conference Odds and all the rest, go to IDSca.com and remember, Live Betting will be available throughout many games.
PAC-12 ODDS
Oregon 9-4
USC 11-4
Stanford 5-1
UCLA 5-1
Arizona St. 6-1
Arizona 7-1
Utah 10-1
California 18-1
Washington 30-1
Wash. St. 40-1
Colorado 50-1
Oregon St. 50-1