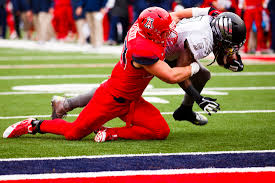 Local bookies know that on Thursday night, Oregon (4-0), who are ranked second, are ready to take on Arizona (4-0) at Autzen Stadium. Local bookies are looking forward to a very intense showdown, especially since the Ducks have one thing on their minds, and that thing would be revenge.
Many fans won't forget what happened between the Ducks and the Wildcats last season, as Arizona destroyed Oregon in Tuscon 42-16, putting an end to any hopes that the team had to reach a fifth BCS game in a row and clinch the conference title of the Pac-12. The Ducks' offense fell apart thanks to a sprained MCL suffered by QB Marcus Mariota, but their defense was also nothing to brag about, as they let Arizona convert 11 out of 16 third downs and get 304 yards while on the ground, which proved to be very disappointing.
Oregon and Arizona were both off for 12 days after very close wins in both teams' conference opening games. The Ducks were able to escape the claws of the Washington State Cougars with a 38-31 score, while Arizona had an apparent miracle and took out California 49-45 thanks to a Hail Mary pass made at the final moment by QB Anu Solomon to WR Austin Hill, putting their names in the history books.
Arizona were down 31-13 as they moved into the fourth quarter of their game against the California Golden Bears, but the Wildcats bounced back in last quarter when they scored 36 points.
Over the last decade, the Ducks and Wildcats were able to combine for some very exciting football. In 2007 Dennis Dixon suffered his ACL-injury, in 2008 Oregon won 55-45, in 2009 there was a double-overtime game, and many fans won't forget what happened last year in the impressive win by Arizona.
Even though the Ducks are the heavy favorites to win Thursday night's game, this could turn out to be a very close meeting, and local bookies all over the country can't wait to see the action when both teams lock horns in this upcoming showdown.