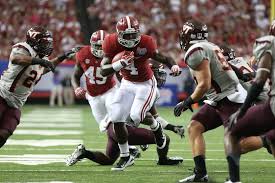 Alabama are only 1-4 ATS over the last five games that they played on the road, and price per head agents can see that they're also 1-4 ATS in their last five away games to opponents in the SEC. The Crimson Tide are the road favorites when they visit Mississippi on Saturday.
Many sportsbooks have Alabama's Crimson Tide as the favorites by 6 points. Alabama are 7-2 ATS and SU in the team's last nine meetings, and are the favorites with six or less points.
After Alabama's season started 0-3 ATS, the Tide were able to pick up their season's first cover when they took out Florida 42-21 being the 14-point home favorites. Even though on four occasions the Tide turned the ball over, they were still able to win the clash with three TD's thanks to a great offensive attack, and with a defense that was able to hold the Florida Gators to only 200 total offensive yards. As Alabama have an additional week off to get ready for this showdown, the Tide should be able to make plenty of improvements in guarding the ball.
The Ole Miss Rebels currently have a flawless start, as they're 4-0 ATS and SU. On defense they just allow 8.5 points-per-game, and on offense they have 39 points-per-game played. In four meetings, Bo Wallace was able to pass for 1,271 yards and 11 TD's, but six interceptions were also thrown by the player.
Up until now, Mississippi appeared to be in very good shape when they took on lesser opponents. On Saturday, the Rebels will have the opportunity to shine when they face one of the very best teams in the nation.
Price per head agents know that Mississippi are a disappointing 1-19 SU in the team's last 20 meetings as the underdogs at home. The Tide are now at a perfect 10-0 SU in their last 10 clashes with Ole Miss, and in this series they're 3-2 ATS over team's last five meetings, being able to win all of those five games by 13 points at the minimum.