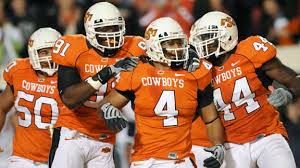 Oklahoma State coach Mike Gundy said that J.W. Walsh will be the starting quarterback for the Cowboys in their season opening game on Saturday when they take on Florida State, and many pay per head agents believe that the team made a very wise move in picking the player.
"J.W. has taken the majority of the [first-team] reps and will be the guy that goes out there and starts for us," Gundy said.
Oklahoma State fans are very hyped, as on Saturday, the Cowboys will have a meeting with the Seminoles – who are No. 1 in the NCAA – in Arlington, Texas, at AT&T Stadium, in a clash that many in the football world are very eager to see.
Price per head agents remember very well when a year ago, Walsh, who is a junior, did not have a very consistent season, as in eight games the player had 9 touchdowns, 5 interceptions, and 1,333 passing yards. In the Big 12, the player's 74.5 adjusted QBR had a fourth place raking.
The player, who last season had five of his eight starts of his career, was competing with Daxx Garman to start in Stillwater as quarterback, and many fans see plenty of talent in both players – enough to see either of them start at the QB position. Many experts believe that there will be a possibility that both of them will be able to play against the Seminoles, depending on how Florida State's defense looks when they face Oklahoma State.
"Daxx Garman brings a different twist to our offense," Gundy said. "He's more of a pocket-style quarterback. With these [two] guys there will be a little different style of offense depending on who is in there."
Florida State's fans know very well that either of these players could be key for the team, but were also glad to see that the coaching staff made up their minds and picked Walsh. Many fans believe that it wouldn't have made much of a difference, considering how skilled both of these players are in the game.