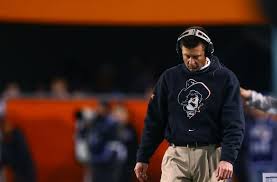 The NCAA has put Oklahoma State on one year probation after finding out the school didn't follow its drug testing policy and also allowed it's all female Orange Pride student group to engage in impermissible activities during football prospects' official and unofficial visits.
Penalties for the offence were the one year probation, $8,500 in fine, the Orange Pride program is under suspension well as university-imposed recruiting restrictions.
"There were mistakes made," stated Greg Christopher, who was the NCAA's chief hearing officer on this case and is also the Xavier athletic director. "(But) we didn't believe there was a failure to monitor per se. Because they had a compliance program for a drug policy, they had a drug plan administrator. They had a monitor in place for Orange Pride. The monitoring was there, but it was ineffective."
The case was formed by a five part series investigation by Sports Illustrated due to Oklahoma State alleging a series of NCAA violations under coaches Les Miles and current coach Mike Gundy dating to 2001. The infractions will not cause Oklahoma State to lose any scholarships or face any postseason bans.
The NCAA did determine that many of the Sports Illustrated allegations were unfounded after they reviewed over 50,000 emails and other documents and also conducting close to 90 interviews of former and current players, coaches, staffers and boosters.
"Some salacious stuff was out there … a lot of unsubstantiated stuff out there that was not found," Christopher stated. "And it was not for a lack of looking. … We have full confidence in what came out of this."
The NCAA did conclude that from 2008-2012 the university was in violation of NCAA's drug testing policies by allowing five football players played in a total of seven games when they should have been suspended.
According to the NCAA, Oklahoma State athletic director Mike Holder believed he had latitude in following the Drug Policy could be followed and deferred to Coach Mike Gundy's recommendation as to suspend the players who filed the drug test.
Pay per head and bookmaking solutions have Oklahoma State at 85/1 and these suspensions will undoubtedly have an ill affect on the football team and other programs which are involved in the probation. They will be looked at under the microscope for the next two years and all their moves will be discussed by the NCAA.