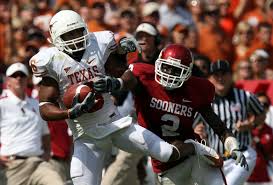 Local bookies still remember very well when in 2003, Kansas State took out Oklahoma in a very impressive win of 35-7. But ever since that meeting took place, the Wildcats ended up losing six out of seven games against the Sooners, and they went 3-4 ATS. Now, the Wildcats will try to change that in Norman, when they take on Oklahoma on Sunday.
Oklahoma's betting line at Memorial Stadium opened up with the Sooners being the favorites by 12 points.
Kansas City are 3-0 ATS in the last three games that they played after they took on Texas Tech a couple of weeks ago and beat them 45-13, and were able to cover as the favorites by two TDs. The Wildcats were then off for the week.
The Wildcats, who overall are 4-1, and in Big 12 action are 2-0, had an early lead of 17-0 over Texas Tech, and things went pretty smooth for them after that, as they were able to surpass the Red Raiders 535-347, with 40 minutes of ball possession, and they could pick off QB Davis Webb on four occasions.
In the meantime, Kansas State QB Jake Waters had 290 yards thrown, scored four times, and was able to run for 105 yards with another TD. Now Kansas State is averaging 189 yards in ground action, with only 81 allowed.
Many fans saw that two weeks back, Oklahoma was able to recover from losing to TCU, beating Texas last week 31-26 and impressing many fans along the way.
Local bookies could see that offensively, the Sooners had a day off, as they were only able to record a total of 232 yards, but they did return an interception and a kickoff for TD's.
Oklahoma's fans know very well that since 2000, the team did not lose two consecutive games. So far this season, the Sooners, who are now 5-1 overall and 2-1, and are also tied in the Big 12 for fourth place, outrush their opponents by a 191-116 yards-per-game margin while they have a 41 points per-game average.