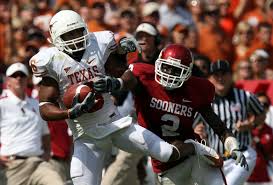 Last year, Texas had a very big win in their Red River Rivalry game, and on Saturday the Longhorns will try to do that again in Dallas when the team goes head-to-head with Oklahoma at the Cotton Bowl. Price per head agents saw that in 2013, Texas was able to take out Oklahoma 36-20 being the 13.5-points dogs, and this time there apparently won't be much of a difference when it comes to their spread.
Plenty of sportsboooks have Oklahoma as the favorites at the Cotton Bowl by 14.5 points.
Last season, the Longhorns were able to do it, and this year the task will be a similar one. Texas is set to face Oklahoma after their team suffered a loss last week at TCU.
As Oklahoma is no longer an undefeated team, it's possible that they don't have the necessary motivation to make a big win, so they can still be considered to take a playoff spot when the season comes to an end.
Last year, the Longhorns had 255 rushing yards on 60 carries when they took on the Sooners. Texas was also able to get punt return TD's and an interception, so there's the very real possibility that the team will make a similar effort with their defense and special teams so they can beat Oklahoma for a second consecutive season.
Even though the Sooners could be in low spirits after they were defeated last week, that stumbling block could also help the team as there's no way right now for Oklahoma to overlook Texas. If they suffer another loss, the Sooners will probably not have any more opportunities to get a spot for the playoffs, and Oklahoma's cause can only be helped by a blowout win.
Trevor Knight will start for the Sooners at QB, as Blake Bell – who was the starter last year – was now given a tight end position. Price per head agents saw Bell do a horrible job in their game last year, as he completed 12 out of 26 passes for 133 yards with no TD's scored as well as two interceptions, and many fans were pretty upset when they saw that one of them ended up being returned for a TD.