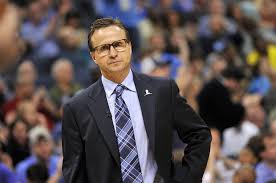 Oklahoma City Thunder announced Wednesday that they have fired head coach Scott Brooks. "This is an extremely difficult decision on many levels," general manager Sam Presti said in a statement. "This decision is not a reflection of this past season, but rather an assessment of what we feel is necessary at this point in time in order to continually evolve, progress and sustain. We determined that, in order to stimulate progress and put ourselves in the best position next season and as we looked to the future, a transition of this kind was necessary for the program." Presti will discuss the decision to let Scott go once he returns from California.
The Thunder missed the playoffs for the first time since the 2008-2009 season. They fought hard throughout and it came to the last day, but was left out by the New Orleans Pelicans. The whole year they were plagued by injuries. Reigning MVP Kevin Durant played only 27 games. Russell Westbrook missed 15 games, and Serge Ibaka missed the last 18 games of the season.
"He led us, man," Durant said of his former coach. "He made sure everybody was emotionally stable because we had a lot of guys in and out of the lineup and he kept everybody together. That's what your head coach is supposed to do. I can't really say anything about it because he did his job. He kept us together."
Presti made the decision to part ways with Scott Brooks, but Thunder officials say his firing was not the cause and effect of the season. It is more of an eye on the future, and Kevin Durant's impending free agency. Scott had the impression after the team's annual exit interviews that he would coach next season. He had one year left on his contract that was signed in 2012 and a team option that ran through the 2016-2017 season.
Presti made the decision without consulting players and even though brooks were well liked the team is excited to have a new voice lead the Thunder.
Bookmaking solutions had the Thunder back on the 28th of March t 33/1. Those numbers now seem low after they were bounced on the last day. The league knows though nobody would've liked to meet the Thunder in the first round. They are a dangerous team that could beat any team on any given day.