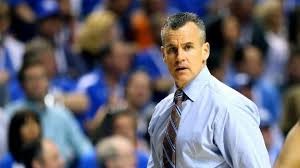 Florida Gator coach, Billy Donovan is leaning towards taking the Oklahoma City Thunder head coaching job, according to online bookmaking solutions sources.
On Wednesday, sources told ESPN.com that Billy had left little doubt that he was seriously entertaining the prospects of making the jump to the NBA by being Scott Brooks's successor at Oklahoma City. Scott Brooks was let go by the Thunder after failing to make the playoffs this year and two other Western Conference finals in his 7 years as head coach.
ESPN.com has reported early Wednesday that the Thunder has formally opened up dialogue over the Thunders head coaching vacancy. Donovan has been widely touted as the favorite to man the sidelines for the OKC Thunder, once the job became available.
ESPN.com sources have even said that "the job is Donovan's to lose." One other source from Florida stated that Donovan "is as good as gone.
Neither Donovan nor the Thunder could be immediately reached as Donovan has stepped out of the spotlight to make the final decisions on whether to make the leap to the NBA.
Even though Donovan has zero NBA coaching experience, Thunder General Manager, Sam Presti is intrigued with the prospects of hiring Billy Donovan because of the ideologies they share in respects to the game. Presti always talks about the culture and about every decision made is for the future of the culture.
Sources say that Donovan had become bored with some of the college routines such as recruiting. The Gators missed the postseason this year after reaching the Final Four in 2014 and competing in their third straight Elite Eight. The Gators were national champions in 2006 and 007 under Donovan with a frontline that had NBA talents the likes of Joakim Noah and Al Horford.
He briefly was the coach of the Orlando Magic, accepting a job in 2007 only to renege on it and go back Florida a few days later.
"[He's a] great coach," Noah said after Wednesday's practice. "I love Coach Donovan and I wish him nothing but the best … I think he's going to be great."
Pay per head and bookmaking solutions have listed the odds on then Florida gators at 50/1. Those are not very good odds and they figure to go down some losing their coach of so many years and head of most basketball decisions.