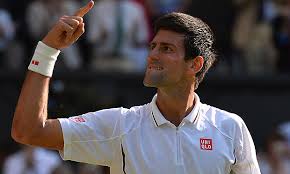 Novak Djokovic, world No 1, doesn't think that he's one of the top players in history, but many of his fans and online bookmakers believe otherwise, especially after the feat that he just accomplished in Melbourne.
On Sunday, many fans were taken aback when they saw that the 27-year-old Serb took out Andy Murray in four sets in Melbourne, securing what turns into his career's 8th Grand Slam title, successfully joining a list of players who were able to reach this record, and continuing to impress his fans and the tennis world as a whole.
The highly talented player is set to clinch additional honours in the exceptional career that he had in the sport so far, but he wants to keep his feet on the ground after a brilliant start to the year, focusing on winning more matches.
"I don't feel like one of the greatest even though it's flattering to be in the elite group of players who have won eight Grand Slams," he said. "Legends of the sport like Andre Agassi and Ivan Lendl.
"These guys have made a mark in the history of the sport so to be in the group with them is a great privilege."
Problems with his thumb and ankle that worried many of his supporters seemed to get in the way of the player while dropping the second set to his Scottish counterpart, but the Serb was able to fight back without any setbacks and put an end to the match with a fantastic victory that stunned many fans.
Djokovic said that now he's very eager to clinch even more wins after turning into a husband a father, and his fans believe that his future in the sport can only get better, with many in the tennis world confident that he'll continue to improve.
"Any Grand Slam win is a special win, even though I've won it five times now of course," he said.
"Entering a new chapter of my life, getting married and becoming a father – all in the last six or seven months has given me a new kind of motivation and new energy that I used during this last couple of weeks."
Djokovic's fans believe that this will be a great year for the player, and online bookmaker will continue to keep him as one of their big favourites in tennis, as his talent in the sport is massive.