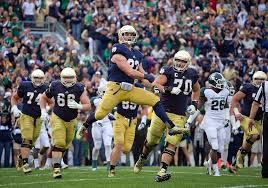 Notre Dame's fans and bookmaker software services believe that the Golden Domers must have a lot of fun when they visit the west, as they're currently 7-2 ATS in the last nine meetings that they had with teams from the Pac-12 on the road.
In the meantime, Arizona State could be moving for one more Championship Game in the Pac-12, but they were also somewhat overrated in their home games, as they only went 1-4 ATS the last five times that they played in the Sun Devil Stadium. Therefore, many bettors might favor the Fighting Irish on Saturday at Tempe.
The betting line opened with Arizona being the favorites by a single point.
Notre Dame are 7-1 SU and 5-3 ATS, and the Irish could remain unbeaten if it wasn't after call for an offensive pass interference that ended up canceling a game-winning TD when they faced the Florida State Seminoles about two weeks back. The Irish were able to outrush the Seminoles 157-50 and outgain them by nearly 150 yards. Notre Dame beat Navy 49-39 last week, even though they were unable to cover, being the favorites by 14 points.
The Irish are now 11-7-1 ATS and 17-2 SU in games with QB Golson starting – and the player seems to be having a great season with the team.
In the Pac-12 South, Arizona is currently sitting at first place after their 19-16 win to Utah last week in overtime. When they were playing in overtime, the Sun Devils were helped by Utah by means of a field goal that was missed, but the Utes were also outgained 444-241. QB Taylor Kelly was clearly not at his best during his second meeting back after having missed playing time with an injury to the foot, but the player did make very important throws.
Ever since they were pounded by the UCLA Bruins, Arizona State were able to defeat the USC Trojans, the Stanford Cardinal, the Washington Huskies, and the Utes.
The Sun Devils could be better off with their offense, but even though the Irish lost the services of Joe Schmidt – their top tackler – they're better when it comes to defense, and many fans can see this. QB Goldson's talent on the field also gives the Golden Domers an edge in the game. Therefore, many experts and bookmaker software services believe that Notre Dame will be the ones to own this meeting.
More from IDSca.com:
Texas A&M's Kenny Hill gets a two game suspension
Clemson vs. Wake Forest Week 11 Betting Line