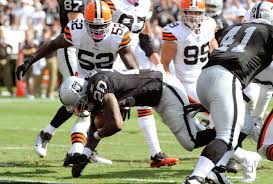 This season, the Browns are 3-2-1 ATS and 3-3 SU, but the team is just 4-10-1 ATS in the last 15 meetings that they played as the home favorites. In the meantime, this year the Raiders are 3-3 ATS and 0-6 SU. However, sports software services can see that they're also 8-3 ATS in their last 11 games away as dogs. Cleveland will obviously be the favorites over Oakland when both teams go head-to-head on Sunday at the FirstEnergy Stadium.
Cleveland's betting line opened up with the Browns being the favorites by seven points, and the total was 43.
Oakland are 1-1 ATS and 0-2 SU under the guidance of Tony Sparano, the team's interim head coach, after they lost 24-13 at home last week to the Cardinals. The Raiders were only trailing the Cardinals 14-13 late in the game's third quarter, but ultimately couldn't make it.
Oakland was able to give the Chargers everything they could put up with the week before that, leading by a TD with 10 remaining minutes before they allowed the game's last 10 points. This season, the Raiders still didn't win a single game, and are seen by many in the football world as the worst team in the league, but they were able to cover the spread as the six-point underdogs when they took on the Jets, against the Patriots they were the underdogs by 14 points, and against the Chargers they were the dogs by seven points. Two of these teams are doing a better job this season Cleveland, which could mean something.
Last week, Cleveland lost against the Jaguars 24-6, and this loss came a week they demolished the Steelers 31-10, leaving many fans amazed. The Browns were very disappointing on the field last week, but the team was only able to trail the Jaguars 10-6 in the middle of the fourth quarter of the game, as they let the Jaguars nail two TD's made late in the game. Now Cleveland are 6-3 SU, 6-1-2 ATS in games with Brian Hoyer as the team's starting QB.
This season, the Browns are also 2-1 SU, 2-0-1 ATS in games played at home. Sports software services can see that Cleveland have a ranking of 10th place in the NFL in their total offense and with 132 yards-per-game, they have sixth place when it comes to rushing. Even though the team's defense has a ranking of 29th overall in the NFL, it only allowed 34 points in their last two meetings, after 105 points conceded in their first four games.