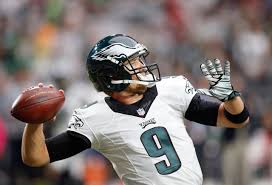 On Friday night, the St. Louis Rams signed quarterback Nick Foles to a contract extension of 2 years 24.5 million. The extension goes on top of the one year deal Foles already had remaining on his rookie contract. Mind you Foles has not played a down for the Rams yet but this will put him with the Rams through the 2017 season.
PPH Bookie service has the St. Louis Rams at 45/1 to win the Superbowl; they hope Foles can become a piece to bettering those odds. There is no reason why Foles shouldn't get this type of deal, and the Rams not lock up a quarterback like Foles.
"It's something the team had talked to my people about, and I want to be here," Foles said. "I want to focus on my teammates. I want to be all-in. I don't want to have to worry about contract issues or anything. To me, that can be selfish. I'm very fortunate to be here. I'm fortunate to have a contract. To me, I'm very thankful."
Foles was acquired in a trade with the Philadelphia Eagles where they sent Sam Bradford and draft picks for the up and coming quarterback. The Rams might have been scared by the number of time Bradford went down with injury. There mindset might have been the player won't hold up. The Eagles snatched Bradford up and took the picks to boot. At Pay Per Head Sportsbook they have the Philadelphia Eagles at 28/1 and they seem primed to make some noise in NFC East.
Fisher is still trying to put the pieces together in St. Louis, "It's a good deal for us, good deal for him," Fisher said. "He wants to be here, and we want him here right now. He's done a lot of good things for us in a short period of time."
He was asked for the reasoning behind signing Foles so quickly and Fisher pointed out his performance and intangibles. "It's what he's done on the field early in his career thus far in the league and what he's done for us since he's got here," Fisher said. "He gets the game, he understands it and he's got tremendous leadership qualities. He can settle in, and now the players can rally around them and he can rally them and we'll go on and win a lot of games."