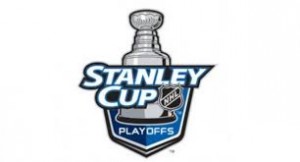 We're almost there! The excitement for NHL fans when their team gets to play for hockey glory in the NHL playoffs is something truly amazing. Let's see how our NHL predictions are coming along with who's ready to go to the NHL finals and the vie for the Stanley Cup.
NHL fans are a breed unto themselves, and have been happily supporting their team during the NHL regular season. In fact hockey fans are so dedicated to their team, it rarely matters if the team is winning or losing. The arenas are packed every night.
Post-season, the top 3 teams of each division fill the first 12 spots for the NHL playoffs. That means that with current NHL scores, Montreal, Tampa Bay, Detroit, Rangers, Islanders and Pittsburgh are in for the Eastern Conference. For the Western Conference, St. Louis, Nashville, Chicago, Anaheim, Vancouver and Calgary would make up the other 6 teams.
The other 4 spots in the NHL finals will be the 2 best teams from each conference.
NHL Predictions are not needed for the bottom of the groups, as there are not enough games left in the season, even with back-to-back wins for the next month of NHL regular season.
Hapless Buffalo have struggled all throughout the regular season and are currently at a measly 19-42-6, while Edmonton isn't far behind with 18-39-11, a far cry from their glory days with the great one, Wayne Gretzky.
Follow the latest NHL odds and NHL previews at IDSca.com.
Last year the Los Angeles Kings (who Gretzy also played for back in the day) beat the NY Rangers 4 games to 1. This year the Kings will have to work hard to even get into the NHL playoffs.
The Kings currently are not far behind in the Western Conference, and tied for wins with Winnipeg. With a month to go they will likely power ahead to make it by the skin of their toes.
Other hopefuls to make the NHL playoffs in the Eastern Conference are Washington and Boston.
Washington's Alex Ovechkin is on the roster and should help to get his team to the goal. Ovechkin has only missed 26 games in his 10-year career for the Capitals, a great feat in such a rough sport.